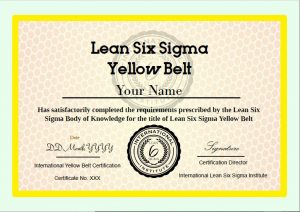 3-day Yellow Belt training and ILSSI or CSSC Exam
£995.00
Classroom Yellow Belt Training and Certification
The 3 day classroom ILSSI or CSSC Internationally Certified and Accredited Lean Six Sigma Yellow Belt course is designed for a professional who requires an understanding of the basics of the Lean Six Sigma Methodology and who supports process improvement projects as a part of a team.
The use of interactive games and class practical exercises helps students to experience the principles, tools and techniques for themselves. The ILSSI and CSSC certification exam consists of 50 multiple choice questions.
COURSE LEARNING OBJECTIVES
Lean Six Sigma Yellow Belt training and certification provides an insight to the tools and techniques of Lean and Six Sigma and its process improvement methodologies. As a Yellow Belt you will be ready to participate as a core team member or subject matter expert on a project within your company. Lean Six Sigma Yellow Belt training gives employees a stronger understanding of processes, enabling each individual to provide meaningful assistance in process improvement to achieve the organization's objectives. Yellow Belt completion provides the stepping stones towards Green Belt and Black Belt Certification.
The Yellow Belt is an ideal introduction and starting point to understanding Lean & Six Sigma
With this training you will learn:
The fundamental Lean principles, Six Sigma principles, and the overwhelming benefits of blending the two in a unified approach
Project execution based on the DMAIC (Define, Measure, Analyze, Improve, Control) methodology
Project targeting criteria and what makes a great LSS project
Lean & Six Sigma concepts and tools
Key elements of successful Lean Transformation
Project Selection
Team Roles
Voice of the Customer (VoC)
Value Stream Mapping
Value-Add versus Non-Value-Add
Root Cause Analysis
Fishbone Diagrams
Lean Flow & Work Cells
5S
Visual Tools
Capacity & Bottlenecks
COURSE PREREQUISITES
There are no prerequisities for this 3-day Lean Six Sigma Yellow Belt course other than a basic understanding of mathematics ( GCSE level or equivalent). All training materials are provided.
TEACHING OUTLINE
DAY 1
Lean Fundementals
Six Sigma Fundamentals
Elements of Waste
Voice of the Customer
SIPOC
Introduction to Value and Value Stream Mapping
Introduction to Flow and Pull
DMAIC Methodology
Root Cause Analysis
DAY 2
Selecting Projects
Introduction to Six Sigma Statistics
Pareto Analysis and 80/20 rule
Kano Analysis
Pugh and other X-Y matrices
Measurement System Analysis
Process Capability
Lean Controls
Defect Controls
DAY 3
Introduction to Statistical Process Control (SPC)
Final Internationally Accredited Yellow Belt Exam
All training material and equipment will be provided for Yellow Belt students. No laptop is required for this class.