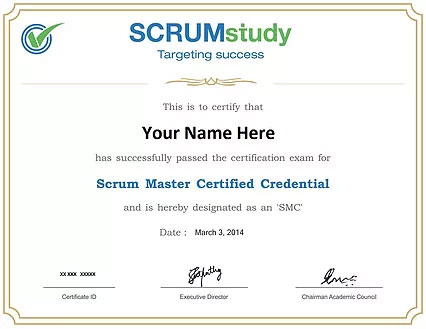 SCRUM MASTER CERTIFIED SMC™
Training course and certification exam
30 Videos covering all chapters ( over 480 minutes total )
Online Study Guide downloadable as .pdf
A Guide to the Scum Body of Knowledge ( SBoK)
Online SCRUM MASTER CERTIFIED SMC™ Certification Exam
Course Validity – 180 days
Multiple choice exam questions
100 questions per exam
No negative marks for wrong answers
120 minutes duration
Proctored online exam
Current Pass Rate 95%
Scrum Master Certified (SMC™) professionals are facilitators and project managers who ensure that the Scrum Team is provided with an environment conducive to completing the project successfully. The Scrum Master guides, facilitiates, and teaches Scrum practices to everyone involved in the project; clears impediments for the team; and, ensures that Scrum processes are being followed. Successful candidates will be awarded the Scrum Master Certified (SMC™) certification by SCRUMstudy after passing the certification exam
Scrum Master Certified (SMC™)
Overview
This Scrum Master Certified (SMC™) training course covers the principles and process theory underpinning the Scrum framework, and the role of the Scrum Master in it. This course is a combination of videos and online workbooks that teaches what is at the heart of the Scrum and Agile movement.. The objective of this certification is to ensure that Scrum Masters know enough about scrum and their role and responsibilities to effectively lead a Scrum project. The courseware and preparation tools required for the certification exam will be available online once payment is made. An online proctored exam will be conducted at the end of the course.
Course Content
Agile & Scrum overview
Scrum roles
Scrum project phases

Initiate
Plan & Estimate
Implement
Release
Review & Retrospect

Scaling Scrum and Iterative Project Planning
SMC Conclusions
Audience Profile
This course is recommended for professionals who aspire to lead a project team using Scrum and Agile methodology and need to understand the roles and responsibilites of the Scrum Master in order to provide an environment and structure for completing the project successfully. A certification of Scrum Master is issued upon successful completion of the course and passing of the end of course exam.
Prerequisites
There is no formal prerequisite for this certification.
Exam Format
Multiple Choice
100 questions per exam
One mark awarded for every right answer
No negative marks for wrong answers
120 minutes duration
Proctored online exam